MOVIE REVIEW: Fahrenheit 9/11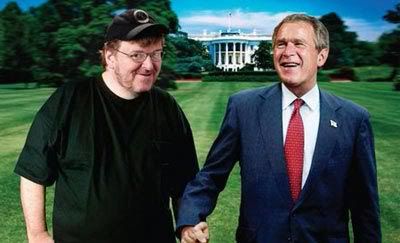 Last Friday, I went to see Michael Moore's new documentary/political piece, "Fahrenheit 9/11".
Since then my buddy Ben has posted a few of his remarks regarding the film on his blog, Bar-Talk. A few comments have been added to his post by some of his frequent visitors, including me. They have done nothing but prove that this movie is controversial to the bone. I went pretty in depth there with my thoughts on the film and war in general. If this interests you, head on over there. Go ahead and chime in, if you'd like, too. Here or there.
If you don't want to read over it (it's kind of a lot), here are some of my opinions, in a slightly smaller nutshell:
Michael Moore spread himself too thin. He doesn't dig deep where it counts. Instead, he skips around covering too many issues and none of them thoroughly enough. It showed.
On top of this, the film is
extremely
one-sided, mainly because of everything that Moore leaves out of it. He only uses facts (of which some were pretty flimsy), anecdotes and footage that support his claims and he completely omits anything and everything that might counterattack his stance. Of course, it should be noted that - and this is no shocker - Moore probably wasn't all that concerned with making an objective movie. I don't think it would surprise anyone to know that his primary goal with this film was to sway people away from re-electing Bush in the upcoming elections, even if it meant misleading them. I find this to be somewhat insulting.
By choosing to be strictly subjective, Michael Moore sacrifices his credibility in exchange for manipulative power. Which is greater? That's a good question. I might argue the latter. In addition, I think he subjects his film to rightly being considered false propaganda. Many people hanging in the balance will not notice this and be easy prey for Moore's manipulation, some just blindly accepting his claims. That's a shame, as I think people in general need to start thinking for themselves more, rather than regurgitating whatever the media feeds them - I don't care if it's from FoxNews, Michael Moore, Rush Limbaugh, Sean Penn or their church pastor. Just think for yourself. I was taught this at a young age. It's a good idea.
Though I have all these probelms with "Fahrenheit 9/11", there is still some value in seeing it. First of all, it's important that everyone keep an open mind to hear other people's opinions. It's important to look at the big picture here and I think the main thing that Michael Moore is trying to get across is that the war that is being fought right now must stop. He may not go about it the right way by laying every single ounce of blame on the Bush family, but at least it seems that his convictions are in the right place.
There are also a few moments in the film that are extremely powerful and worth remembering. He does express some valid concerns about actions that took place after Sept. 11th and before our attack on Iraq. It's just that he doesn't explore them...and he HAS TO DO THAT if he's going to make the kind of claims he's made and expect viewers to take him seriously. Otherwise, I'm just going to assume that there's nothing at the end of those trails he's led us down.
At the very least, "Fahrenheit 9/11" will provide fresh material for some interesting conversations and debates.
Other people's thoughts on "Fahrenheit 9/11":
Matt LaBash (The Weekly Standard)
Roger Ebert (Chicago Sun Times)
Jeffrey Overstreet (Looking Closer)
A couple interesting side notes:
-The theater where I watched this movie was located in the Great Lakes Crossing mall in Auburn Hills, MI. That should ring a bell if you've seen Moore's other film, "Bowling for Columbine". Moore visited it in the movie.
-I went with my friend Sam and his friend, Brian, who I just met the day before. Before the movie started, we bumped into a group of guys who both of them sort of knew from when they were all at Michigan State. After we walked away, I found out from Brian that one of those guys was Robert Hamburger - creator of the Official Ninja Webpage: Real Ultimate Power! It was so cool. And by cool, I mean totally sweet. He wanted to meet up later and let off fartbombs in the mall....