BOOKS I READ IN 2004
LOVE IN THE TIME OF CHOLERA
by Gabriel Garcia Marquez
CARNET DE VOYAGE
by Craig Thompson
This is an illustrated travel journal, a detailed account of Thompson's recent trip that took him through Europe promoting his last novel,
Blankets
, and gathering research for his next book,
Habibi
, the proper follow-up to
Blankets
. Not so much about that side of it, though. It's more a chronicle of the struggles he faces as a comic artist and as a person experiencing new places, meeting new people and discovering new perspectives, as well as feeling lost and lonely at times, far from his life back home. His illustrations do an incredible job of capturing the fascinating beauty of the landscapes, architecture and people of Morroco, Italy, Paris, Switzerland, Spain, etc....
Can't wait for his next work.
A MILLION LITTLE PIECES
by James Frey
A powerful tale of redemption and victory over addiction. Unbelievable and incredibly eye-opening. If you can handle the coarse language, do yourself a favor and read this. It's an amazing, highly affecting story full of hope and strength.
A HEARTBREAKING WORK OF STAGGERING GENIUS
by Dave Eggers
CHOKE
by Chuck Palahniuk
The sexually explicit nature of this book was completely not what I was expecting to find here. The back cover and all the other blurbs I read made no mention of how vile and graphic the content of this book would be and completely mislead me with their description of the basic plot. In my opinion, this is well-written garbage and not worth reading at all. I tried to give it a chance and kept going, hoping the tone of the book would change and the plot would shift, but it never did. It will take a LOT to interest me in giving Palahniuk's work a second chance. I highly un-recommended this book.
ON THE ROAD
by Jack Kerouac
LIFE OF PI
by Yann Martel
LOVE IN THE RUINS
by Walker Percy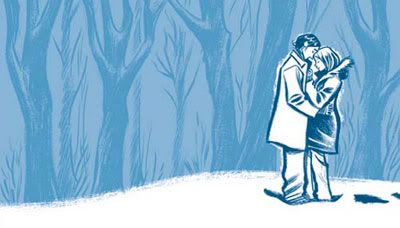 BLANKETS
by Craig Thompson
BLUE LIKE JAZZ
by Donald Miller
THE ROLE OF REDEMPTION IN THE CREATIVE PROCESS
by David Bazan
"I feel the darkness growing stronger, as you cram light down my throat. How does that work out for you in your quest to be above reproach?" - Pedro the Lion's "Magazine"
This is not actually a book, but an essay I came across on the web that is truly essential reading, particularly if you enjoy the work of David Bazan (a.k.a. Pedro the Lion) or if you are interested in reading about faith and redemption and their relation to the creative process in music, art, and just life in general.
The link above will take you to a transcipt of a workshop Bazan did at the "Calvin Festival of Faith & Music" about a month ago, and as I read it, I kept reading things he'd say that just totally clicked with my ideas. It's a lengthy article, but well worth the read and I think it contains a lot of truths that many people don't realize or completely think through on their own.
Bazan does a solid job of revealing and explaining some misguided theologies that some Christians hold to - intentionally or not - and shows that they're just totally missing it...the point of what Jesus' sacrifice has done for us, the freedom we have because His success has replaced our failure(s). Another thing he said that really left an impression on me was the concept that everything we do is either worship or it's sin, but that even sometimes our worship can be sin - when it's a complete lie. When that is the case, God is seeing what we're doing and our failure in that aspect, However, it is being covered up by what Jesus has done for us and so He is pleased with us and can pour His love out over us, quenching that need that is inherently within everyone to feel loved, especially by the One whose impression is stamped on us because we were created in His image. Knowing this and being certain of it - that is what faith really is.
So, anyway, I'd really, really urge everyone that's checking in here on my blog to click over there when you have the time to read it and focus on what he's talking about, because it's really valuable wisdom that he's sharing. One thing that I've always admired and been drawn to so much in Bazan's work is his incredibly deep level of honesty. He's so real - no facades here - and very driven intellectually. He's done his thinking and research. Combine that with his experiences and background, and he has an enormous amount of wisdom. So seriously, read it when you have the chance.